Medically Supervised Weight Loss Programs
Meet Your Weight Goals with Medically Supervised Weight Loss
As obesity has become increasingly more common in the U.S. in the past few decades, many physicians and clinics around the country are focused on providing a medically supervised weight-loss program. Through these specialized programs, they're able to help patients overcome obesity in a healthy, safe way.
The best weight-loss programs offer medical supervision, motivation, and a diet and exercise plan. At Olympia, we're dedicated to helping both patients and physicians have success with medically supervised weight loss through our available weight-management treatment options. We also specialize in fat-burning injections that help complement these weight-loss programs for the best possible results.
View our solutions for weight management now to see what option is best for your needs.
Symptoms of Obesity
Currently, 1 in 3 adults are considered obese in the U.S. According to data from Behavioral Risk Factor Surveillance System (BRFSS), adult obesity rates now exceed 35% in 12 states, 30% in 35 states and 25% in 48 states. Middle-aged adults and seniors have the highest obesity percentages of age groups in the U.S. as well.
As reported by the CDC, there are many risks of obesity including:
– Stroke
– Coronary heart disease
– Gallbladder disease
– High blood pressure (hypertension)
– Type 2 diabetes
– Osteoarthritis
– Sleep apnea and breathing problems
– Erectile dysfunction and sexual health issues
– Lower quality of life
Signs of obesity can include:
– Sudden loss of breath
– Increased sweating
– Increased snoring
– Inability to handle sudden physical activity
– Extreme daily exhaustion
– Back and joint pain
– Feelings of isolation
Benefits of Medically Supervised Weight Loss
With many people struggling to lose weight, taking part in a weight-loss program supervised by a physician can be a great option with many benefits.
Through medically supervised weight loss, a physician can monitor the overall health of the patient while making suggestions for the individual's caloric intake, exercise regimen and more.
Losing weight has many benefits that can include:
– A healthier heart
– Lower blood pressure
– Less strain on joints and lower back
– A better sex life
– More confidence
– Improved overall quality of life
Weight Management Therapy Program & hCG Diet Alternative
In addition to motivation, diet and exercise, a physician may prescribe compounded medications including HCG, B12 and other fat-burning shots to help individuals reach their weight-loss goals.
At Olympia, we offer several injectable options for treatment, including our vitamin injectables and our popular Lipo-Mino Mix blend, which can help reduce appetite, build muscle and promote a healthy immune system.View Injection Options
Our HCG Diet Alternative Medication
Although the hCG (Human Chorionic Gonadotropin) diet has been very popular among physicians trying to help patients lose weight over the years, an update in 2020 by the FDA reclassified hCG as a biologic compound, which has been removed from the list of drugs that can be produced from 503B facilities like Olympia.
Because we're directly regulated by the FDA, we always abide by these changes and have created a Weight Management Kit that is a great hCG diet alternative solution.
If you've been affected by the new regulations with hCG, learn more about our Weight Management Therapy Program as an effective hCG diet alternative option.
How to Get Started
Whether you're a patient looking to meet your weight goals or a physician wanting a weight management solution to implement at your practice, Olympia is here to help.
Fill out our online form to speak with a member of our team about our medically supervised weight-loss options today.
Introducing Our hCG Diet Alternative Kit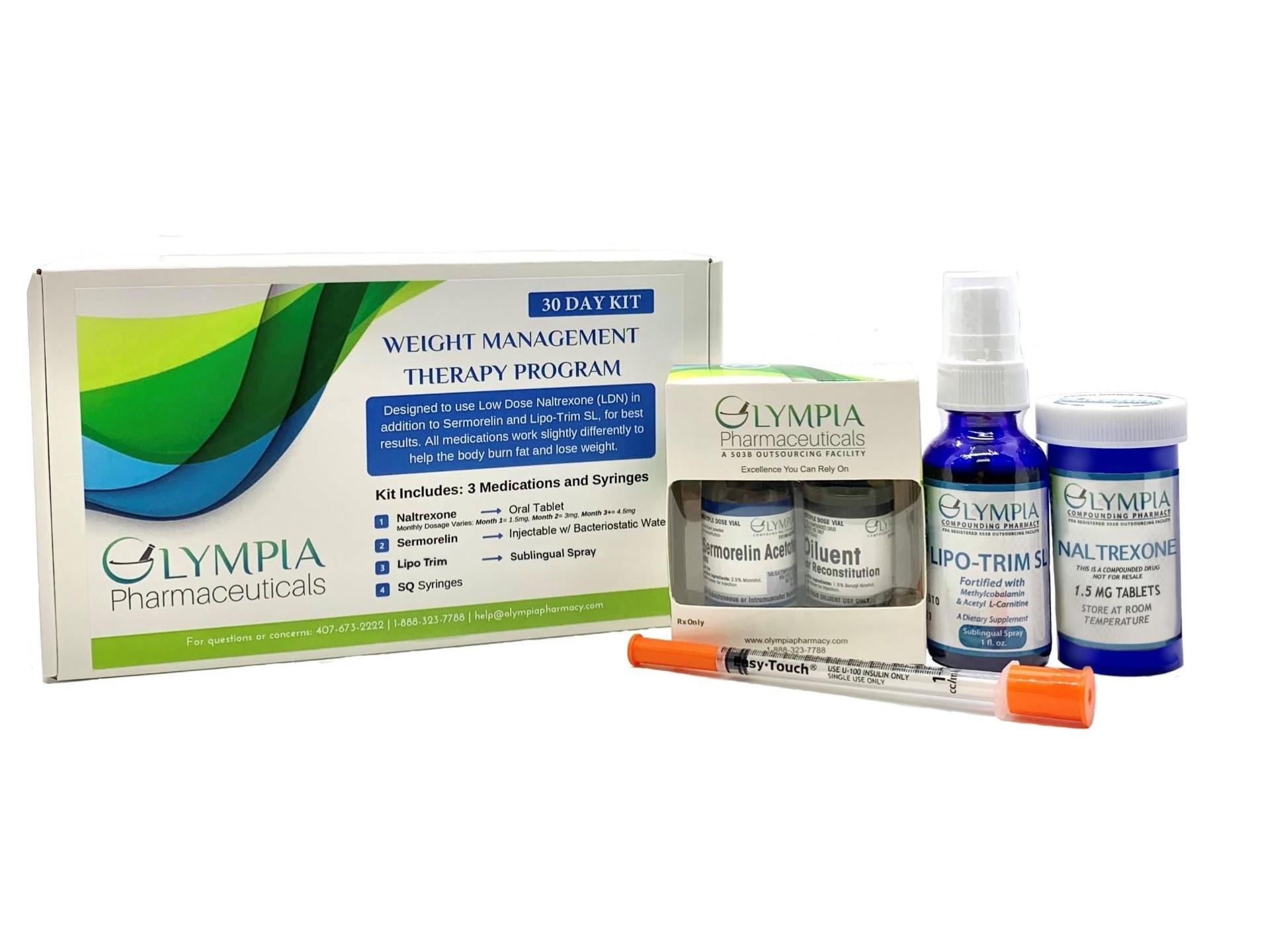 As mentioned above, although the hCG (Human Chorionic Gonadotropin) diet has been a widely popular treatment used by physicians across the nation over the years, an update in 2020 by the FDA reclassified hCG as a biologic compound, which is a type of compounded drug that cannot be produced from 503B facilities like Olympia.
However, we've created a Weight Management Therapy Program that's an excellent hCG diet alternative, which can produce even better results, can be used long-term and can be even safer to implement.
About Our Weight Management Therapy Program
Our physician-supervised program is designed to help any individual safely and effectively reach his or her specific weight-loss goals. The Olympia weight-management protocol uses a combination of Naltrexone, Sermorelin, Lipo-Trim SL and low-calorie intake to achieve optimum weight loss results. The protocol may also boost metabolism and help patients lose large amounts of fat, all without feeling hungry.
Want to Learn More About Our Weight Management Therapy Program?
Get access to our in-depth "Get the Skinny" on Physician Supervised Weight Loss webinar — which covers everything from updates on hCG and why it's been reclassified by the FDA, to what hCG diet alternatives are available and what to do moving forward. Sign up today and we'll send you a link for immediate access to our webinar.
FORM SHORTCODE